"Mandarin Ducks" by Qi Baishi: Bridging Armenia and China 
by Ani Margaryan
In 2013 Bonhams auction house sold one of the works of prominent Chinese artist Qi Baishi (Qi Baishi, "Mandarin Ducks in Lotus Pond," ink and color on paper, framed and glazed, inscribed and signed "Baishi," with one seal of the artist, 84.5cm x 28cm (33¼in x 11in)), that Shavarsh Simonyan (1912-1974), former Minister of Education of the Armenian Republic, acquired directly from the artist in Beijing in 1956. The present painting gains more value considering that very few Armenian collectors of Chinese art have been recorded so far.
The collector of "Mandarin Ducks in Lotus Pond," Shavarsh Simonyan, served as the Minister of Education of the Armenian Republic from 1954 to 1973. In 1956, he participated in a delegation to meet Mr. Zhang Xiruo, the Minister of Education in Beijing, with the Ministry of Education, RSFSR. The painting was given to the Armenian minister as a gift during his visit to the artist's studio. His descendant kept the painting after Simonyan passed away in 1974.
A stamp printed in the USSR dated back to 1958 and showcasing Qi Baishi himself, a 1957 Soviet postcard with the image of the work authored by the Chinese master, the monument dedicated to Baishi that stands at the Chinese Palace in Zolochiv castle (Ukraine), and eventually, the 1960s-1970s publications in Russian exploring the legacy of Baishi reaffirm the Soviet audiences' awareness of Baishi's legacy.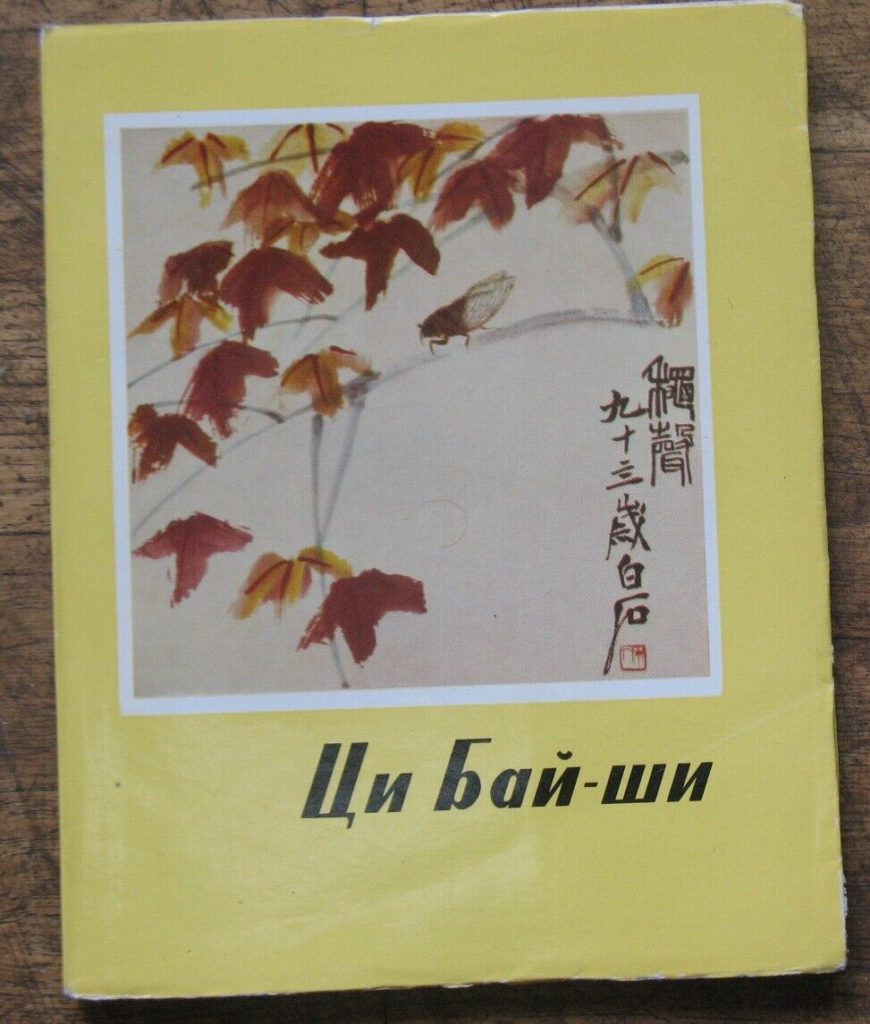 Qi Baishi (齊白石, 1864–1957, the original name is Qi Huang (齊璜), his courtesy name Weiqing (渭清), bai shi ("white stone") is one of his pseudonyms) was one of the most well-known contemporary Chinese painters, who was credited for modernizing the gongbi style of classical Chinese painting. Throughout his lifetime Qi Baishi managed to master many different techniques including calligraphy and seal-carving. After establishing himself in Hunan as a painter and artist, it wasn't until his forties that he began traveling and looking for more inspiration. His work does not bear the stamp of obvious Western art influences, unlike most other artists at this time. He was inspired by Ming dynasty artist Xu Wei (徐渭) and the early Qing dynasty painter Zhu Da (朱耷). He was introduced to the xeiyi, or freestyle method of painting, by mentor Wu Changshuo, and began employing more lively brushstrokes and a playful tone. His peers praised him for the "freshness and spontaneity that he brought to the familiar genres of birds and flowers, insects and grasses, hermit-scholars and landscapes".
Qi Baishi experienced fame and success during his lifetime, which has grown exponentially since his death in 1957 at the age of ninety-three. In 1953, the Ministry of Culture selected him as the Outstanding Artist of the Chinese People. One year later he was selected as the representative of the Chinese people, and attended the National People's Congress. One year before his death, he was awarded the World Peace Prize by the World Peace Council.
He is estimated to have produced between 8,000 and 15,000 distinct works throughout his life, of which 3,000 are in museums; however, since 1993, auction houses have attempted to sell over 18,000 distinct works attributed to him. A painting attributed to him, "Eagle Standing on Pine Tree", was sold for 425.5 million yuan ($65.5 million) in 2011, becoming one of the most expensive paintings ever sold at auction. However, doubts over the painting's authenticity were later raised by the bidder.